Before we get to the Malibu/Woolsey fire details a few basic things need to get out of the way: During the pilot episode of The O.C. three houses were used in the filming, all three are located on the same street in a gated Malibu cul-de-sac:
6205 Ocean Breeze is the house that we could occasionally see only the front exterior of. This house was where the Cohens supposedly lived. It remained seen throughout the series, a focal point right before interiors scenes were shown. If you remember Marissa and Ryan first met down near the driveway of this home.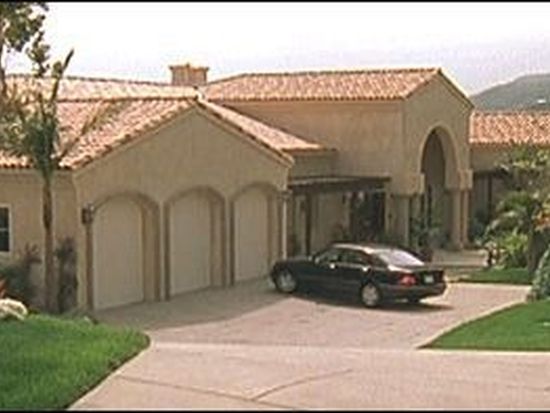 6201 Ocean Breeze was Marissa's house - this house is directly next door to 6205 (Cohen house), this house was used very briefly in the pilot episode. Marissa's front doorway was shown when "The Man" stopped by/Jimmy's office/Foyer area when Marissa, Jimmy, Julie and Kaitlin were leaving the house to head to the charity show. Furthermore a few exterior shots were used when Marissa laid on the ground passed out. This homes interiors were later changed and built on a sound stage in Manhattan Beach.
Lastly 6210 Ocean Breeze was just a house on the same street as the other homes (very close to 6201 and 6205) that the producers conveniently borrowed things from.
For instance, the backyard pool area (where Ryan's pool-house was located) was actually shot in the backyard of this house..
It was temporarily built and taken away after filming the pilot (rebuilt in a studio at Manhattan Beach).
This house also contained scenes from the interior living room area where Seth was playing PlayStation with Ryan. "Do you want to play Grand Theft Auto? It's pretty cool. You can like, steal cars and... not that that's cool. Or uncool".
Lastly where Sandy and Kirsten talk (along with other kitchen scenes/Ryan cooking breakfast) were all filmed at this 6210 Ocean Breeze home.
These areas were later built inside a sound stage in Manhattan Beach (more on that
here
). The producers took key elements from
6210
and key elements from
6205 + some creativity
and sandwiched them together to make what we saw on The O.C. as "The Cohens house".
Now that we have that out of the way - we have just learned that the Malibu fire has made it's way to this famous O.C. filming location street. It has been confirmed only verbally by twitter handle
MalibuFire2018
(no actual picture proof yet) that the circled house (6210) was confirmed lost structure (destroyed/damaged). If it turns out to be true this will be a huge blow to the O.C. filming location community - as it holds a lot of early memories of the pilot episode. To check the ongoing updated interactive map go
here
.
Another external photo above and more interior photos below. (taken from the last episode of The O.C. when Ryan drives away from the Cohen house)
Sitting area..Notice how much larger this version is compared to the sound stage version (this is where Seth was playing video games in the pilot with Ryan)
Kitchen area where Sandy and Kirsten talked / Ryan made breakfast
Another kitchen shot
Another kitchen area shot
Shot of the family room
Backyard without temporary pool house (taken from a real-estate listing)
A shot of the interior of the pool house that we saw in the pilot episode (it was only built for one episode then moved to Raleigh Studios in Manhattan Beach).
Another shot of the pool house - pretty crazy how detailed it was right!?
This room should look a bit familiar to you..It's because they turned this into Seth's room during the pilot filming
Then here's Seth's room all dressed up
Anyways we hope that the news is false but at least we are left with these wonderful images of what the house looked like before its untimely demise. We will keep you guys posted if we find anything more.